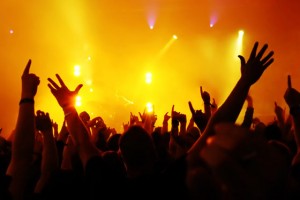 "It's not just a series…It's a movement."
Founded by longtime journalist and former Village Voice columnist Mike Geffner, The Inspired Word began as strictly a poetry series in March 2009, on a blizzard of a Monday night  at a sleepy vegan organic restaurant along Queens Boulevard in Forest Hills.
Like most new things, the event had its kinks and catastrophes.
The microphone didn't work right, if at all. The stage, makeshift (and that's being generous) sucked. Hardly anyone showed (a dozen or so, tops). And you could barely hear the poets above the chatter of other customers who clearly came only to eat dinner, not listen to poetry.
Yet, less than a single year from that dubious start and after the vegan organic restaurant abruptly went belly up, The Inspired Word drew upwards of 90 people to its Manhattan debut at the Greenwich Village club, (le) poisson rouge, in Jan. 2010, before quickly establishing itself as one of the hottest spoken word/poetry series in New York City.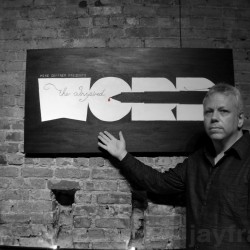 The Inspired Word has gone on to expand to music and comedy and feature the impressive likes of Golden Globe Award winning actress Jill Eikenberry, Golden Globe/Emmy nominated actress Amber Tamblyn, TV comedian John Fugelsang,  prolific film/stage actor Taylor Negron, Grammy nominated singer Carolyn Malachi, American Idol finalist Anwar Robinson, Hollywood exec Eve Brandstein, award-winning crime novelist Marcus Sakey, and HBO Def Poetry stars Suheir Hammad, Oveous Maximus, Shihan, Patricia Smith, Lemon Andersen, Beau Sia, Regie Cabico, Willie Perdomo, and Vanessa Hidary.  Also, with its ever-growing open mic (open to ALL types of artists – not just spoken word artists and poets, but musicians and comedians as well), the series has given voice to a slew of stunning emerging talent.
In January of 2012, we were featured on the Travel Channel's Hidden City; in March of 2013, we were featured on MTV's Washington Heights; and in May of 2013 we'll be featured on a Style Network reality show.
The Inspired Word has produced fundraisers for breast cancer research, inner city literacy, LGBT youth, and a greener environment. It has staged poetry, storytelling, and comedy slams, LGBT and Best American Poetry nights, and walked on the wild side with erotica and burlesque events.
The events are hosted by NYC spoken word poetry legend Nathan P., poet Aimee Herman, comedians Mike Brown, Selena Coppock, singer Sylvana Joyce, HBO Def Poetry star Gemineye, and spoken word poet Advocate of Wordz.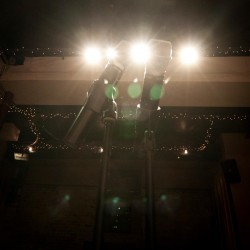 Our venues (all in Manhattan, NY):
Bareburger (East Village), 85 2nd Avenue (@ 5th Street), 2nd floor, Manhattan, NY – Unplugged Mondays Music Open Mic EVERY Monday night, 6:30-11pm, The Organic Open Mic (for poets, comedians, singers/musicians, storytellers) EVERY Tuesday night, 6:30-11pm; Slam Master Jam Poetry Slam EVERY last Thursday night of the month, 6:30-11pm. NO AGE LIMIT. Family style restaurant, so NO EXPLICIT LANGUAGE. http://www.bareburger.com/
The Gallery at LPR (le Poisson Rouge), 158 Bleecker Street (between Sullivan and Thompson), Manhattan, NY – Titillating Tongues: NYC Erotica in Poetry & Prose Open Mic EVERY 3rd Friday night of the month, 7-9:30pm; The LOL! Comedy Slam ($50 prize for best set) EVERY 4th Friday night of the month. 7-9:30pm. AGE LIMIT 21+. http://lepoissonrouge.com/
Funkadelic Studios, 335 West 35th Street (between 8th and 9th Avenues), 3rd floor, Manhattan, NY – The Music Box Open Mic EVERY 1st Friday night of the month, 6:30-11pm; The Open Mic Joint (for poets, comedians, singers/musicians, storytellers) EVERY 2nd Friday night of the month, 6:30-11pm. AGE LIMIT: 18 + (unless accompanied by an adult). http://funkadelicstudios.com/
The vibe is addictive,  the community supportive, and the nights always inspiring.
The Inspired Word mission: to celebrate the live performing arts (spoken word, poetry, music, comedy, storytelling) in New York City; to inspire creativity, action, and change; to tear down the walls separating us by finding unity through community.