"It's not just a series..."
Mike Geffner Presents The Inspired Word
NYC MUSIC, POETRY, SPOKEN WORD, COMEDY – New York City Open Mics, Feature Showcases, Off Broadway Performances & Workshops
*****
Founded and produced by longtime New York City journalist and former Village Voice columnist Mike Geffner, The Inspired Word is the hottest open mic/indie performance series (spoken word, poetry, comedy, music, storytelling) in the country, happening every week in NYC.
A journalist for over 30 years, an event producer for over 13 years, as well as a marketing professional and workshop host, Mike is available for private coaching about writing, event producing, marketing & promotions. Please feel free to email him @ [email protected] for more info and rates.
NYC's Hottest Open Mics
The Parkside Lounge, 317 East Houston Street, East Village, Manhattan, NYC
Open Mic & Showcase EVERY MONDAY night (for poets, comedians, singers/musicians, storytellers), 7-10pm. AGE LIMIT: 21+. Buy tickets via http://nycmondayopenmic.eventbrite.com
Open Mic & Showcase EVERY TUESDAY night (for poets, comedians, singers/musicians, storytellers), 7-10pm. AGE LIMIT: 21+. Buy tickets via https://nyctuesdayopenmic.eventbrite.com
Saturday Afternoon Pop-Up Open Mic (for poets, comedians, singers/musicians, storytellers), 4-7pm. AGE LIMIT: 21+. Buy tickets via https://inspiredwordnycpopupopenmic.eventbrite.com
*****
NYC Voices: A Poetry & Spoken Word Experience. Venue: The Parkside Lounge, 317 East Houston Street, East Village, Manhattan. 7-10pm. 21+ age limit. Buy tickets via https://inspiredwordnycvoices.eventbrite.com
*****
SPECIAL EVENTS
Triad Theater (Off Broadway)
158 West 72nd St, New York, NYC
No Age Restrictions
Saturday, June 3, 9:30pm
Tix @
https://www.instantseats.com/?fuseaction=home.event&eventID=7078872B-ACB4-C4CF-E9CDA5BC107E2FEC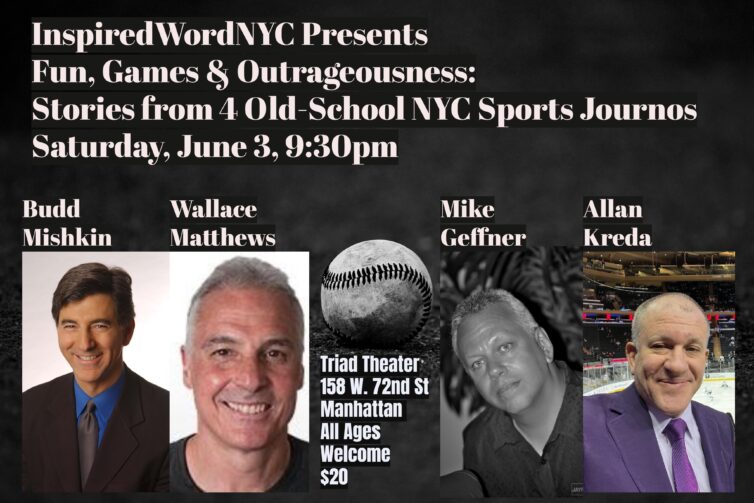 Inspired Tweets
Stay In Touch
Events Calendar