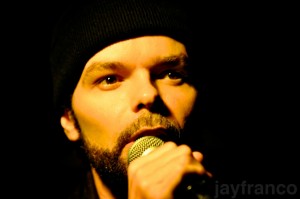 "I would have to say that I'm haunted. I'm haunted by everything that drives me. I want to do great work. I need to do great work. I won't be satisfied unless I do great work." – Lemon Andersen
AN INTERVIEW WITH POET/ACTOR/PLAYWRIGHT LEMON ANDERSEN BY MIKE GEFFNER
On an unseasonably warm Thursday night in mid-December, I made my way into the Country of Kings – a lifelong Queens boy making the hour-long-plus alphabet subway trek, from the R to the J, from an underground platform to the elevated stop at Marcy Avenue in Williamsburg, Brooklyn.
This is the turf of performance poet Lemon Andersen, a street kid from the Courtyard projects who dropped out of high school and did several stretches at Riker's before turning the lemons of his life into, as he puts it, "the best goddamn lemonade." He went on to become one of the biggest stars on Russell Simmons Presents HBO Def Poetry and ended up winning a Tony Award (as well as a Drama Desk nomination) for the Broadway version. Then Spike Lee, another Brooklyn-to-the-core guy, discovered him, put him in three of his movies and made County of Kings – Lemon's poetic, poignantly gritty and often hilarious one-man play -happen at The Public Theater.
Lemon seized the opportunity with both hands, took County of Kings from the Public to the road to all over the world and wowed both audiences and critics alike.
A star, against all the odds, was born.
Lemon will tell you that poetry saved his life, pulled him out of the cycle of Riker's and gave him purpose. "Poetry," he once said, "gave me the space to be honest."
I meet Lemon at his favorite haunt, Mulholland's, an around-the-corner sports pub with a 50-foot mahogany bar, 12 huge hi def plasma TVs, and 22 beers on tap. You can find him here every football Sunday hanging with his homies and like crazy cheering on his beloved Jets.
He's dressed in his trademark look: jeans, hoodie, and knit cap. He also has the classic Lemon countenance: a half-grin that seems to challenge you to take your best shot.
We sit at a table all the way in the back, with an overhanging TV set to ESPN. He orders us both – what else? – Brooklyn Lager. We click glasses. "Cheers," he says.
This was four days after I saw him at the famed El Museo del Barrio performing for the last time, he says, his County of Kings, a fusion of poetry, hip hop, drama and ballet that takes a hard look at his life growing up in Brooklyn with drug-addicted parents who died by the time he was 15. It was my first time seeing the play and I couldn't have been more mesmerized. It was impossible for me to take my eyes off him.
Lemon and I talked for over two hours. He's a man of strong opinions (especially intolerant of elitism and pretenders and laziness) and with definite ideas of where he's going and how he'll get there (balancing the marketing man with the performing artist).
He was born Andrew Andersen in 1975, the son of Milagros Quiñones, a native of Puerto Rico, and Peter Andersen, a Norwegian-American from Bensonhurst — who met at a methadone clinic and split up soon after his birth.
"I was born with slick mouth," he has said. Indeed the words, often heavy in slang but uniquely bunched together, rush off his tongue at an amazing clip, the result of a forever spinning mind. Still, as much as he reveals, so much of him seems hidden beneath the surface, keeping you at a safe distance, sizing you up, before he trusts you enough to draw you closer.
He yanks his cap down, folds his arms across his chest, and leans back in his chair. That half-grin remains and his eyes flit back and forth from me to the ESPN scroll on the TV screen. 
Mike Geffner: So what made you close County of Kings and have a finale performance?
Lemon Andersen: Fear. I didn't want to have that fear of relying on one show anymore. I felt the show was bringing me too far deep into being a one-hitter. And I didn't want to feel like that anymore. I felt that if I let go of the show it would force me to write another one. I want to crank out work. More work. The poets, the writers, the actors I respect most are the ones who are constantly putting out work. I aspire to be like them.
Geffner: Were you tentative about using the phrase "finale performance"? Sounds, so, well, final.
Lemon: Well, it's definitely my last County of Kings show in New York City. I mean, I think people will try to get the play out of me from time to time – and I'll give them excerpts, to promote the book, because the book is just as important to me as the play. It actually started with me just wanting to write my memoir. It wasn't supposed to be a play.
Geffner: So how did it become a one-man play?
Lemon: Because everyone I was going to for edits for my book, everybody I was going to for notes, everybody around me who acted or directed kept pushing me into it, to star in it as a play. "You're a performing artist," they told me. "That's what you do best.  You can't just write a memoir. That's not who you are."  So I went from trying to write a book first to doing the play first, then writing the book afterwards.
Geffner: My favorite line in County of Kings is where you say that you turned the lemons of your life into the "best goddamn lemonade." It seems to be the core of the piece. What's your favorite line?
Lemon: It's one that never makes it into the tour version. It goes: "And just like the American Way, honesty will get you nowhere."
Geffner: The thing that amazes me most about your performance in the play is that you're moving around that stage virtually non-stop. I get tired just watching you.
Lemon: Actually. I'm almost at a point where I'm passing out sometimes. Two or three times I thought I was going to pass out.  I mean, it's like I'm burning (up) and coming back and burning (up) and coming back. I guess the adrenaline carries me.
Geffner: Do you need energy from the audience, for them to get involved?
Lemon: No. It's even better for me when the audience isn't involved, because I can slow it down. Because what happens is this: when the audience knows too many of the sound bites, when they're too familiar with the text or the language or the street slang, I know that I have to go faster.  I mean, I've done the show a 100 times, to so many different audiences, and the New York audiences are always the easiest to make laugh, but the hardest for me to slow down on.
Geffner: Do you ever forget lines and improvise?
Lemon: No, no, no…I'm not an improviser. I'm not an improvise actor. I'm more of a…If I skip a line, I'll hold onto the intention. And the intention always carries me through. The people will allow you to make mistakes, as long as your intention is there. My heart is still there. You're still going with story. The audience is not worried.
Geffner: How much prep work goes into putting on the play?
Lemon: It's absolutely choreographed, but not too choreographed.
At a place like Museo Del Barrio, I'm seven hours in tech that day. So I have that shit down. Especially the lighting. Create magical moments with lighting.
Then I'm upstairs, downstairs, backstage. I'm kicking it with the crew members. I'm finding out what the energy is like.
Geffner: You also have such a graceful, smooth presence on stage. You move like a dancer. Where did that come from?
Lemon: I went to ballet school. So the stage is always a graceful place for me. It's a place I kinda float on. Even if you're standing still, you're floating. You're putting your presence on the audience and they're watching you glow. Ballet teaches you that shit.
Geffner: It makes you as much fun to watch as you are to listen to.
Lemon: I hope so. I want to be what I want to see on stage.
I'm big on transcending art to the world. I don't want to do art just for my own people, not only Puerto Ricans or urban people or New York City people. Not only or poets. But all people. I want people to leave my performances saying, "I don't really like poetry, but I like Lemon."
The sad part about it is, I wish more (performance) poets would've come see the play. They want to do the kind of work I do, get the jobs I get, but you can't get those jobs if you don't watch how someone else does it and take notes.
These poets want Heaven, but they don't want to die to get there.
I mean, do you think you're just going to sit there and get it that easily? Do you know how many people are in front of you? Do you know how many people are training every day to be better?
But simple seems good enough for them.
That wasn't me. How I ended up where I am is because I had a guy named Reg E., Gaines.
Reg E. Gaines, who once slammed at the Nuyorican Poets Café , is best known for being a two time Tony Award nominee, a Grammy award nominee and a Bessie Award winner for Best Book/Lyrics for "Bring In Da Noise Bring In Da Funk."
This guy Reg E. Gaines was showing up to poetry cafes, but he was also writing Broadway musicals. I fuckin' went right under his wing. That's the guy I want to be. And I'm going to follow him everywhere. Evvv-ryy-where. I was annoying. I was a fuckin' pain in his ass. He'd go to places where I couldn't get even in the front door. He'd be looking at me, Like sorry, man, can't get you in. But I kept showing up and showing up and showing up. I took on his attitude for work. His morale. His bitter take on life. I'm the Lemon version of Reg E. Gaines.
Geffner: We all know that you're Brooklyn through and through, but what part?
Lemon: I was born and raised between Sunset Park and Park Slope, a place down the block from a cemetery called Greenwood. It's not really a place well known in the borough. The fact is, I consider myself more Sunset Park than Park Slope, because my enemies were in Park Slope and my friends were in Sunset Park.
Geffner: What was your neighborhood like?
Lemon: Arab, Polish, Puerto Rican….
Geffner: Did people take you for Puerto Rican?
Lemon: No. That's where I got the nickname Lemonhead – which was shortened to Lemon. It came from the blond hair and the fact that I looked white. Thing is, my brothers and sisters, who were from a different father, looked black.
My mom's Puerto Rican, but my father was Norwegian. A crazy, wild guy. I loved him. He's the poet. He's the one who showed up in my life and gave me that real sensitive side.
Geffner:  How come you don't mention him much in the show?
Lemon: Unfortunately, he got cut out. His story was too big for the show. I mean, when you write a show, it's, like, six hours long. And then you polish, you end up taking it to two.
I wanted to write about my father first. He's such an American character.  A Vietnam War vet who met this Spanish woman, saved her from a violent relationship, and had me.  My mother's story had so much energy. The editors and dramaturgs behind the show cut it.
Unfortunately, I wasn't as close to my father as I would've liked. It hurt me very much when he passed away. I was very young and naïve and I didn't understand how beautiful a human being he was until later on. He was such a nice, generous person, the saint of the family. I also didn't realize how important I was to his family. I was his only child and so when I visit the Andersen family, I'm Peter's son and they totally embrace me.
My father left me some letters with these poems in them, put the gift of poetry in me. He also gave me my love of basketball, took me to my first Knick game – a playoff game against the Cavs.
Geffner: Your real name is Andrew. Is Lemon and alter ego for you?
Lemon: Yeah, in some safe way. Thing is, Andrew, Andy has been gone a long time. Only when I go to places like Disneyland, places I wish I had gone as a kid, am I Andy again.  I've been Lemon since I was five.  When people call me Andy now, I just laugh. I'm like, Alright, if that makes you feel personal with me, call me Andy.
Geffner: What was school life like?
Lemon:  I was in Special Ed at Abraham Lincoln High. I was there with Stephon Marbury. But my mother passed away while I was there and I ended up being on my own, on the street, and eventually going to jail. I went to John Jay College for a while, then straight to Riker's Island.
Shortly after Lemon's Mom died, he was arrested for stealing school clothes. A youthful offender, he was sentenced to probation after a few weeks in Riker's. He then was arrested again for dealing crack, was prosecuted as an adult this time and returned to Riker's for a year.
Lemon: I jumped in and out of jail several times from the age of 16 to the time I was 20. It was the Guiliani era and I was getting arrested for all that quality of life stuff. I'd be caught on the street with no ID and the next thing I know, I'm attached to some other crime down the block. Shit I didn't do.  And I'd go to criminal court without a paid lawyer for a crime I didn't do and end up copping out for 30 days, three months. Fuck it.
Geffner: What was prison like?
Lemon: It was more my self-education than anything else. I wasn't comfortable with what everyone was doing there. Everybody was lazy. Kicking back. Watching TV. Putting their leg up. Getting visits from their girlfriend, their families. Getting packages and stuff. There was a lot of love for these guys.  I didn't get a damn thing.
So I did a lot of soul searching, read a lot of books. I was trying to find out who I was. I even volunteered for boot camp. So, by the time I came out, I was pretty well disciplined.
Still, after his release from Riker's, when he couldn't find a job, he returned to dealing (but this time in Columbus, Ohio), got caught in a raid, and upon being released from jail with a pending indictment, he fled the state and returned to Brooklyn.
Geffner: How many times were you at Riker's?
Lemon: [He shrugs] Four, five times. Something like that.
Geffner: Is your record a problem?
Lemon: It is. I hope to be pardoned one day so I can teach and build curriculums at the master's level in college, give workshops on performance poetry.
Geffner: Is there a positive to prison?
Lemon: I found my real humor in college. I mean, in Riker's Island. [He laughs] I'm sorry. It felt like college.
The thing is, I was really special in Riker's Island. People treated me like they treat me now. It's weird, man. The correctional officers took a liking to me. The prisoners took a liking to me.
Geffner: Do you think that likeability is the secret of your success?
Lemon: It's not just my likeability that's getting me the work. It's like he's cool, but he'll also bust his fuckin' ass to get the shit done well. I put the work in too. That's why important people are standing behind my work and why I'm now becoming part of the circle that I've always dreamed of. Of real writers. Of real performers I respect. Of real institutions like Sundance and The Public Theater.
Geffner: What do you think is your greatest talent as a writer?
Lemon: Telling a story in a very creative way.
Geffner: What's a constant trait of your poems?
Lemon: All my poems are driven by characters. I want to write characters that speak in great poems. Dramatic poems. I have a passion for drama.
Geffner: Could you talk about how the El Puente Community Center was critical in your evolution as an artist?
Lemon: That place changed my life. The principles on the walls about mastery of life and about social justice – they're words that continue to stick with me. I'd go to sleep every night with those kinds of principles in my head.
I was 19 when I did the open mic there and Suheir Hammad, who was a few years older than me, was the host. She was already an amazing force in the poetry scene, with a couple of books and a publishing house behind her. That open mic was the spark for me.
Geffner: Spike Lee is also a critical element in your career. Where did that relationship start?
Lemon:  He saw me on Def Poetry first. Then he came to the show toward the end of the run on Broadway and offered me a role in a TV series called Sucker Free City. I had a lot of admiration for Spike. Loved his films. Plus, he was Brooklyn born and raised, like myself. It was a dream come true.
He invited me to fly out to LA to work on this TV project with him. The whole thing was so unreal. I was pinching myself. I was in the presence of a genius and he's telling me that I was really good at my job and to still keep doing this kind of work. I mean, who doesn't want to hear that from Spike Lee?
Next morning, he calls me up in the morning, tells me he's driving out to San Francisco, and wants me to roll with him. Just me, him, and his driver for a 7-8 hour ride. And throughout the whole ride, we enjoyed each other's company, but didn't really speak about anything. That was great. I think he liked that about me, that I wasn't some kid who'd hound him with questions.
I think I remind him of being overlooked growing up. He doesn't tell me that. I just feel that from him.
In the end, he saved my ass with County of Kings. He believed in that show and put his name on it (as a producer). It gave me a lot of leverage to get into the kind of theatre that would earn me the kind of critical acclaim that I needed to become legit. If it wasn't for him, I wouldn't have been able to put County of Kings at the Public Theater.
Geffner: What have you picked up from him?
Lemon: The way he maneuvers what he wants to work on, what makes him happy. Sometimes he wants to do things because he just wants to do things.
Geffner: Four words come to me every time I see you – intense, focused, hungry, and disciplined. How do you see yourself?
Lemon: I have an incredible willingness to live. I have that great will to really, really live my life. To really exist. To not lie to myself as a poet. To search for the honesty in my work.  And I definitely have that fire, that fearlessness, that my mother had. Like when you see me trying to break that stage in half, that's my mother.
Geffner: The thing I remember most about your performance at The Inspired Word was that right after you uttered your last word you fell back to the wall and looked like you were going to collapse. You gave everything you had.
Lemon: I'll never toss it in. People want to see what the fuck the hype is about. They're asking before they see me, "What makes this guy so special?" So I make sure I always tear the fuckin' space up. I don't care if I'm performing in a closet. I'm going to rock out. I mean that.
Geffner: What's the best word to describe you?
Lemon: I would have to say that I'm haunted. I'm haunted by everything that drives me. I want to do great work. I need to do great work. I won't be satisfied unless I do great work.
Geffner: Who were the poets during your formative years that embodied the traits you respected most?
Lemon: Bukowski, for sure. He worked in a post office all day, then did his poetry all night. Reg E. Gaines. He had the hustle, he had the ethic, and he had the great work. He had amazing poetry. His poetry would transcend. He would do poem in iambic pentameter and with a rhyme scheme about Air Jordans. I mean, not only does he sound good, he's doing Shakespeare shit and rhyming, talking about sneakers, and there would be drama in the middle of it. Willie Perdomo. He had the style and smoothness. And Beau Sia. He knew how to rock big crowds. I love to rock big crowds.
Geffner: What would surprise people about you?
Lemon: That I have a vulnerable side. And that I have a family. No one knows that I have a family. I mean, my girl is not a poet. She's a mom. No one knew that. And there was a point for people to finally see my flaws and see my heartbreaks professionally. People thought that I was having it good, putting out bottles of Vodka with Spike and living it up. But In the documentary (LEMON The Movie – http://www.lemonthemovie.com/), you can see it was not necessarily like that. I was getting that door slammed in my face all the time.
Geffner: You have three daughters – Heaven, Shine, and Gem. Tell me about them.
Lemon: Heaven is the oldest. She's 10. She's the wedding planner, with a big interest in business. Shine is eight. She's the performing artist. And Gem is the little one. She's one.  I spend most of my time with her and she runs all over me.
Some people collect cars, sports memorabilia. I collect baby girls. I always wanted to see what I could do with another human being's life. It changed the shit out of me, made me respect women more than ever. I'll never do or say or write anything that's disrespectful to women.
I'm a feminist man.
Geffner: Do you cry easily?
Lemon: I get emotional. I don't know if I cry easily. It's an interesting thing. My father will make me cry before my mother will. My father wasn't strong enough to defend himself. And my mother was. My mother fought to the end. My father didn't. He gave up. He was done. My mother, she slap boxed with God, man, all the way through. She was having convulsions right in front of me, putting off death and not wanting to leave her children alone.
My father couldn't handle the war. He came back from Vietnam in bad shape. He wasn't built to go to war. I couldn't see my father killing anyone. So he had to get high in order to exist. I wish I could've been there to protect him.
Geffner: You lost your parents to AIDS by the time you were 15 years old. You were ultimately homeless and sleeping on benches. How did that kind of childhood affect you?
Lemon: I grew up faster than all my friends. I lost my parents within a space of one year. Pushed me 20 years ahead of everybody else I grew up with. I didn't have the same interests as other teenagers. My outlook on the world was different.  I knew what it's like to bury people I loved dearly.
Geffner: How about rage about the life you've had?
Lemon: My father didn't have a hot temper at all and I caught his bloodline of being very at ease and peaceful.
Geffner: What do you like most about yourself?
Lemon: [For the first time during this interview, he pauses for a long time] I'm a nice guy. I'm not negative. I'm not full of it.
Geffner: What don't you like about yourself?
Lemon: [He pauses a long time again] I wish I could work faster.
I want to work on films and TV series. And it takes speed. You have to be able to move the work.
Geffner: Could you talk about the life of full-time artist?
Lemon: I've been doing it 16 years now and it's not easy, man. It's not easy at all. What I want and need for my artistic career – it's not meant for the weak of heart. With all the letdowns, the doors banged in your face. I've been through some shit as an artist, trying to prove myself to the legitimate world, as opposed to the (spoken word) poetry world, where I have nothing to prove.
Geffner: Do you have any fears, concerns as an artist?
Lemon: I don't want to lose my authenticity. I want to grow without losing who I am.
I felt like when I was on Broadway that I had it too easy. I was doing New York poetry to a New York crowd. So the minute I gave them a New York sound bite, they fell right into it. But I was challenged a year later when I had to tour. The audience all of a sudden wasn't with me anymore. That fucked me up. I don't ever want to be unclear. And so I had to learn how to be clear. I went back to class, took more writing classes, studied with a dialect coach and a diction coach. There's a delicate balance for me between being clear and being too slangy.
After all those classes, after Broadway, after all the coaching, I was seasoned enough to do a show like County of Kings that could transcend, be universal.  I've done that show all over the world, where they don't even speak English, and they still get it.
Geffner: You're actor, a performance poet, a writer, a dancer, a playwright. Which one of those do you identify with most?
Lemon: I'm a poet first. That's my thing. I am No. 1 a poet. And I keep that community close to me within my social life.  But it's very distant too, because you won't see me showing up to a lot of things. You see, poetry – it's not a social thing for me.  Poetry is not text to me. Poetry is not a job to me. It is the underlying soul behind my art. I look at things poetically. When I make a choice in a scene as an actor, it's a poetic choice.  I live the life of a poet deep in my soul. I have the soul of a poet.
Geffner: What does being a poet mean to you?
Lemon: Poetry is writing and writing and writing. Constantly putting out work. Not just showing up and performing.
Geffner: Could you talk about your next play?
Lemon: It's called ToasT, which is actually an art form of reciting poetry based on characters and situations driven from the Black Experience, and it centers on the Black folklore hero Dolomite. It's very August Wilson. Filled with monologues and poems and scenes. I'm the narrator. And I'm writing a character that will be me.
The deadline is Jan. 2013. That's showtime. I have four months to write it, four months to stage it, four months to rehearse it.
I can't wait. I can't wait to push myself, test myself, see what I can get done in a year. There's no high expectations. It's just about cranking out another piece, and testing what I can do as a writer
I already have a slot for at least two to three weeks at The Public Theater.
The Sundance Film Institute called me up and pushed me to do it. They flew me out to Utah to meet with their staff. To have that stamp of approval…
Geffner: Where do you want to go with your work in the future?
Lemon: I want to collaborate with writers.
Geffner: What's the best advice you've ever gotten?
Lemon: [He takes a long sip of his beer] Strangely, it comes from a person I hate. After I did Def Poetry and was dealing with my position in the sun, this guy I despise told me, "Don't live for it, live in it." I was, like, Wow, profound shit from an asshole.
Geffner: What advice would you give these young, aspiring performance poets?
Lemon: Find other forms of writing that works – if you want to financially sustain yourself. Then learn about the business. Learn how to market yourself. Go to acting school to become a better performer.
[He pauses]
Look, here's the thing: When opportunities come to someone in your community, back 'em up, support them. We all need that support. We need to stand behind an artist doing great things. Because it's only going to turn around and benefit all of us. I don't want to do this alone. Fuck that shit. I want all poets to excel.
Before we leave the bar to go our separate ways, Lemon says to me: "Okay, so now you know my social security number. But don't let go of the fact that I'm not a guy who chases down the ghost between the words. I'm still the poet first." I'm still not sure what those lines mean. But it's typical Lemon. A little cryptic. A little remote. A compelling set of interesting words. And making me think on the subway all the way back to Queens.